---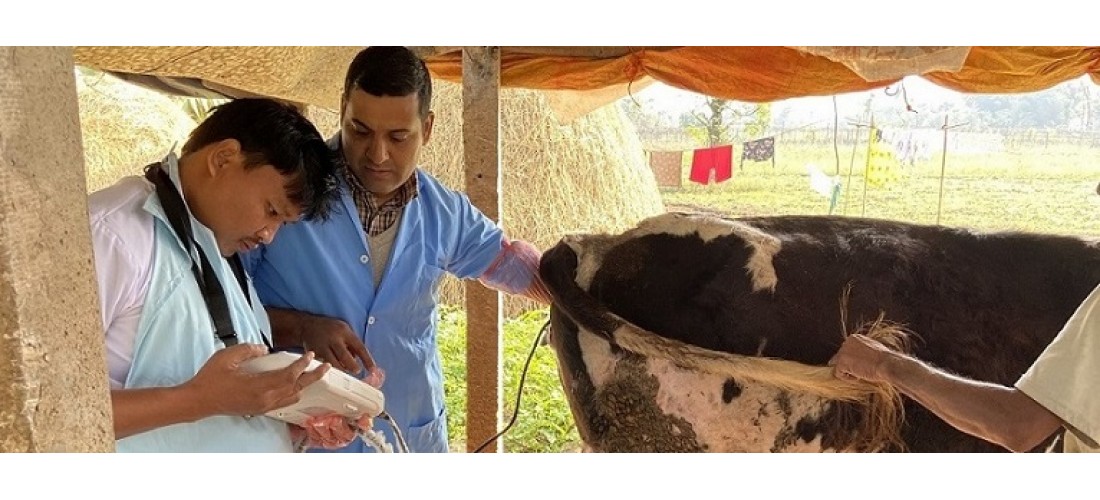 A webinar on INFERTILITY MANAGEMENT IN LARGE ANIMALS
To the veterinarians and vet students
---
---
Background:
Total population of cattle in Nepal is 74,58,885 and buffalo is 52,57,591. The population of lactating cattle is 11, 66156 and buffalo is 1635492 (Krishi Diary 2076/77). Difference between the total number of cattle/ buffalo and number of productive cattle/buffalos is quiet high (62,92,729 cattle and 36,22,099 buffalo are unproductive). Infertility plays a major role in the decreased milk production. Farmers are facing significant great economic losses by rearing the unproductive animals. There are major infectious and non-infectious causes of infertility. Conditions such as luteal cyst, follicular cyst etc. is prevailing in the cattle/buffalo population of Nepal. For proper diagnosis of such conditions skilled and competent manpower is required. Even a small error on the diagnosis causes a great loss on the economy. So, it is necessary to train fresh as well as practicing veterinarians about several aspects of infertility and its management.
Objectives:
The objective of this webinar is to train veterinarians and veterinary students about the various causes that hinder the fertility of large animals. Besides training on the causes, our expert speaker will elucidate on how such infertility issues on large animals can be managed. After the completion of this training, we hope that the veterinarians will be able to diagnose the root cause of infertility they are dealing with any large animals, as well as, be able to strategically execute an action to plan the required treatment protocols. Nevertheless, they should also be able to advise the cattle and buffalo farmers on appropriate precautions to be taken for preventing infertility in their animals.
Keynote Speakers:
Our expert speaker will be Prof. Dr. Bhuminand Devkota, PhD; Coordinator, Directorate of Postgraduate Studies, AFU a renowned Veterinary Theriogenologist and professor of a veterinary school with decades of experience in the gynecological, andrological and obstetrics aspect of cattle and buffalo who will speak on "Infertility Management in Large Animals".
Prof. Dr. Devkota, PhD was the first to introduce ultrasonography technique in Animal Reproduction research, training and extension in Nepal. His research currently focuses on enhancing livestock productivity through better understanding of environment-nutrition-reproduction interactions, and by applying various ovulation induction protocols to address the infertility issues of livestock species. He has authored/co-authored more than 45 research papers in internationally recognized SCI journals, more than 25 in the past 7 years, has more than 60 proceeding/abstract publications and a large number of publications in national journals and bulletin over the years. He was awarded with "Excellent Research Award in Theriogenology" in the year 2006 by Japanese Society of Veterinary Sciences.
For more than a decade, Prof. Dr. Devkota has been continuously serving as a reviewer for several SCI Journals. He is actively involved in scientific networking for knowledge sharing and coordinating among the scientists with a leading role on organizing national/international conferences/workshops and presenting several keynotes, country papers and other presentations. His role as an Organizing Secretary of the International Buffalo Symposium in 2017 and a member of the Organizing Secretariat of International Poultry Symposium in 2018 and Asian Regional Conference on Goats in 2019 in Nepal was pivotal. Currently, he is the President of Asian Buffalo Association elected by the 9th Asian Buffalo Congress held in Hisar, India from February 1 to 4, 2018.
Methodology:
The training is webinar based and will be conducted using Zoom application through renowned expert in the field of Veterinary Theriogenology. The online training will be conducted by Nepal Veterinary Association- Province no. 1 in association with Vet Nepal (www.vetnepal.com), a global online vet service portal from Nepal. The talk program will be conducted for 2 days starting from 13th June, 2021 to 14th June, 2021 (one hour each day, Sunday and Monday, from 05:00 – 06:00 PM). The webinar will be chaired by Dr Sanjay Kumar Yadav, President of NVA- Province 1. The webinar will be coordinated by Dr. Bishal Pokhrel, Joint-secretary of NVA- Province 1 and moderated by Dr. Gangaram Yadav., Secratory of NVA- Province 1.
Zoom link: https://us02web.zoom.us/j/81040563216?pwd=dWtYSlZCQUMyblZHemd5NFVYKzJPUT09

Meeting details:

Meeting ID: 810 4056 3216

Passcode: fertility

Live streaming:

https://www.facebook.com/vetnepalcom/

For further details: www.vetnepal.com/trainings

Dr. Bishal Pokharel

Webinar Coordinator and Joint Secretary,

NVA Province 1

Mobile: +977-9843397587

WhatsApp: +977-9843397587

Email: nvaprovince1.2018@gail.com, bishal_pokhrel2000@yahoo.com,

Website: Dr. Bishal pokhrel | Vet Nepal

Dr. Bibek Bandhu Regmi

Director MarComm,

Vet Nepal (www.vetnepal.com)

Mobile: +977-9857880808 / 9845925903

WhatsApp: +977-9867780808

Email: info.vetnepal.@gmail.com, training@vetnepal.com, bibekregmi2016@gmail.com

Website: Dr. Bibek Bandhu Regmi | Vet Nepal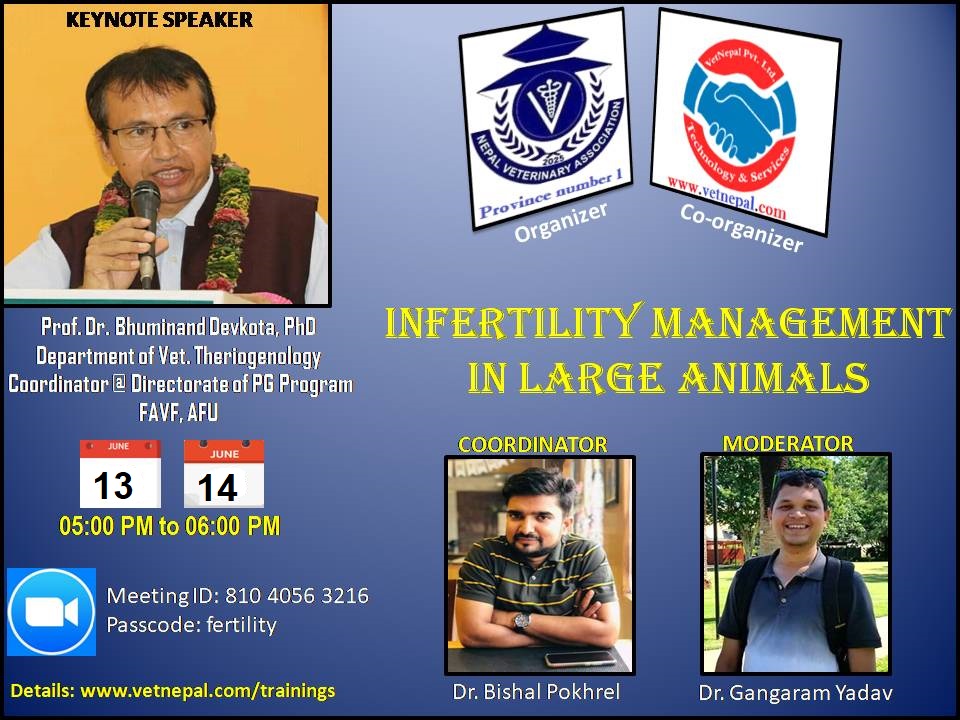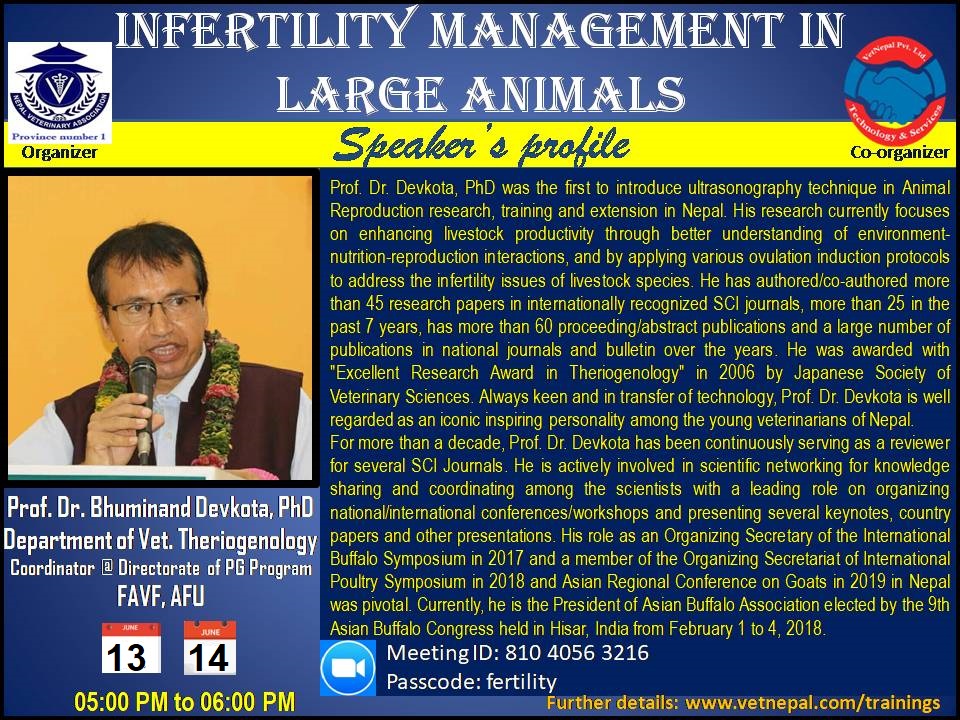 ---