Online Training on
Broiler Production and Management
In open sided house
Introduction:
Poultry farming is a rapid growing agricultural industry of Nepal contributing 4 % to National GDP. Total meat consumption per day in the country is 350 tons (NPF, 2018) Per capita consumption of chicken meat is increasing every year. To meet the growing demand of poultry meat, commercial broiler farming is growing rapidly. However Nepalese broiler industry is facing major challenges due to high disease load especially during winter season. Veterinarians have prime roles in supporting the broiler operation via their consultancy services. Successful broiler operation requires skilled and competent manpower including the veterinarian involved in it. Even a very small lapse in the techn
ical issue can cost much. So it is imperative to train fresh as well as practicing veterinarian about several aspects of broiler production and management.
Objectives:
By realizing the need of advance level broiler management training, webinar based training will be conducted experience and well qualified speak
ers. After the completion of training, the participants will have a good knowledge of broiler management. 80 % of disease in poultry farm arises due to faulty management. Management
of broiler farming during winter season is very challenging and incidence of metabolic as well infectious disease load increases. So it is very
crucial time for broiler farmer as well as consulting vets. The objective of this training is to make the trainees well acquainted with these issues. After this training, the veterinarians will be able to troubleshoot the most common technical lapses that affect overall broiler production performance (temperature, humidity, ventilation, biosecurity).
Methodology:
This training is webinar based and will be conducted using Google meet/Zoom application. The online training will be conducted by Vet Nepal, an online service portal from Nepal. The training will be conducted on 25 and 26 December,2020. The resource person for the training will be renowned poultry consultant.
Program Schedule of webinar on Broiler production and management
25 December 2020, Friday:
7:45: Welcome Speech by Dr Prakash Adhikari
7:50 - 8:45:- Dr B C Dutta Presentation on COMMERCIAL BROILER MANAGEMENT
8:45 - 8:55:- Q & A
8:55 - 9:50:- Dr B C Dutta Presentation on BROODING Management
9:50 - 10:00:- Q & A

16:00 - 16:05:- opening
16:05 - 17:05:- Dr B C Dutta Presentation on BIOSECURITY
17:05 - 17:15:- Q & A
17:15 - 17:25:- ABT Corporation Commercial
17:25 - 18:15:- Dr B C Dutta Presentation on ASCITES
18:15 - 18:25:- Q & A
26 December 2020, Saturday:
10:00 - 10:05: Opening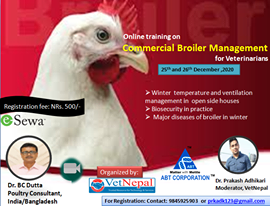 10:05 - 11:05:- Dr B C Dutta Presentation on COLIBACILLOSIS or E coli Infection11:05 - 11:15:- Q & A
11:15 - 12:15:- Dr B C Dutta Presentation on CRD
12:15 - 10:25:- Q & A12:25 - 12:35:- ABT Corporation Commercial
B R E A K
13:45 - 14:45:- Dr Dr B C Dutta Presentation on IBD
14:45 - 14:55:- Q & A
15:00 - 16:00:- Dr B C Dutta Presentation on LPAI
16:00 - 16:10:- Q & A
16:10 - 16:05:- Dr Prakash Adhikari - Closing Remarks
Beneficiaries: Veterinarians, Vet students, Broiler entrepreneurs, Poultry Industry
Conclusion: The aforementioned training may help practicing Veterinarians and Vet students of B.V.Sc.& A.H to deal with the technical aspects of broiler operation. Furthermore, improving the quality of consultancy services they provide to the broiler industry of Nepal.
……………………………
Dr. Prakash Adhikari
Webinar Organizing Secretory/Moderator
Vet Nepal
---